In response to the coronavirus outbreak, we are making the following changes to our current services:
We are only providing quotes for outside events
Face painting services are currently suspended to avoid any risk of contamination
Our "Request A Quote" form has been updated to reflect these changes. We appreciate your understanding as we try to offer entertainment options that work to maintain the safety of our staff and clients.
Balloon Twisting

From super heroes  to princesses and everything in between, Just Plain Silly makes balloon creations that are perfect for birthday parties, street fairs, business openings, fundraisers and more!
Just Plain Silly uses only Qualatex balloons, known for their high-quality and durability. We constantly hone our craft, scouring the internet for the latest techniques, designs and products.
Ask about the special balloons we use for Halloween and Christmas!
Face Painting Services Are Currently Suspended
Face painting is a great addition to any party! Donna, our very talented face painter, makes sure each "little guest" walks away with the perfect design! Just Plain Silly uses Wolfe, Snazzaroo, and Mehron Paradise paints, all standards in the industry. Be sure to ask about our glitter tattoos!
Juggling

Your guests will be amazed at the balls, clubs, and rings sailing through the air. And some might not even hit the ground!
Whether it's a short performance, or an ongoing demonstration, Just Plain Silly can provide the perfect juggling entertainment!
Just Plain Silly prefers to use products from Dubé Juggling Equipment.
Costumed Appearances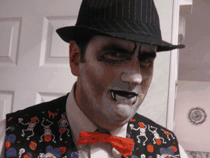 Perfect for holiday and themed parties, including:
Santa Claus and Mrs. Claus
Jingles The Elf
The Easter Bunny
Clowns
Pirates
And more!
Our Santa and Mrs. Claus are our most-requested characters. Booking usually begins late summer for these very popular folks!
Both Santa and Mrs. Claus are very experienced in entertaining for the holidays, from large public events like the Pennsauken Holiday Parade to smaller, private functions.
In order to lock in an appearance for your Christmas party or holiday event, be sure to e-mail justplainsillyballoon.com as soon as possible!