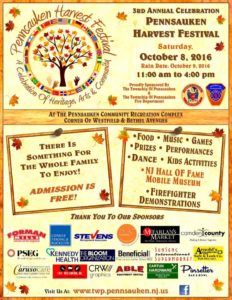 Unfortunately, today's event has been cancelled. We're super bummed. 🙁
Due to large amount of rain that fell overnight, the grounds of the Pennsauken Community Recreation Complex are just too saturated with water to safely setup and hold this year's Pennsauken Harvest Festival.
As the majority of the vendors, etc. have committed to other events this month, the Harvest Festival is unfortunately cancelled for this year.
We appreciate people's understanding in this matter and hope that Mother Nature is a in a better mood for next year's event.